Instrument Models
specifications and examples of available builds
The Hand-Built Expression 6-string
Master luthier Ralph Novak hand builds every Novax Expression guitar to be the consummate Fanned-Fret® 6-string. The neck scale delivers solid lows and sparkling highs thanks to the compensated tuning of the patented Fanned-Fret® system. All details - proportions, electronics, wood combinations, fret binding, body laminate, carving and finish - are executed with masterful precision. Each guitar is the expression of the luthier's craft enabling the player to have the finest instrument with which to perform. Designed and built to be the exemplary Fanned-Fret guitar, the Expression neither nods nor winks at conventional design. This is a new guitar made for players developing a distinctive style that has no place for compromise. The Expression is balanced in tone, string tension and weight. The unique body styling is the ergonomic answer to the player's need for beauty and playability. No other guitarist plays or sounds like you and no other guitar plays or sounds like the Expression.
A Fanned-Fret exclusive, the extended-range (XR) neck combines standard scale length for the treble strings with an extra-long scale for the bass strings. Drop tuning has never sounded fuller. String tension on the low string is good down to C.

Expression Solid
Center-joined solid mahogany, swamp ash, walnut, or maple, deeply hand carved for comfort and beauty.
$2,950.00


Expression Laminated
Mahogany or walnut back, top of highly figured maple or walnut, or exotic hardwood. Hand sculpted, rounded body edges, matching wood headstock overlay and wood fretboard binding.
$3,250.00
Novax® patented Fanned-Fret® system: for unsurpassed tuning accuracy, ease of playing and tonal clarity.
Individual Bridges: for excellent string-to-string crosstalk rejection giving you a more focused tone.

Dual humbucking "soapbar" pickups, three single-coils, or two single coils and a bridge humbucking "soapbar" pickup configurations:the dual pickup model has custom-voiced Bartolini "soapbar" style pickups. A 5-position rotary pickup selector accesses a versatile range of tones from warm and smooth to spanky and bright, all hum-free. A master volume and tone complete the control layout. An optional Bartolini preamp delivers clean gain boost and a buffered output (add $125.00).

The 3 single-coil configuration is available with the option of either Bartolini or Lollar single-coil pickups. Both are calibrated sets with a hum-cancelling middle pickup.

The Bartolini set offers a warm, more "full range" tone than traditional single-coils.

The Lollars come in two vintage voicings:

"Blonde", with a "scooped" midrange
"Blackface", with more midrange punch

A 6-position rotary switch yields all of the pickup combinations available with the 5-way blade switch, plus the combination of the bridge and neck pickups. A master volume and tone control complete the control layout.

Popular nut widths: 1 5/8" or 1 3/4"

Extended Range Neck:

On all 6 string Expression models, the XR neck delivers a huge tone in standard tuning, and is uniquely suited to drop tuning.
Hand carved body: Each guitar is individually, uniquely crafted by hand
Ergonomic shape: Contoured for comfort, shaped for balance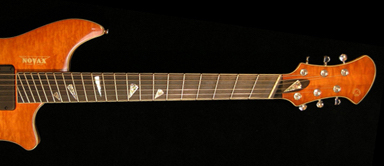 Shipping not included.
To review our 1-year guarantee and see all the guitars we currently have in stock, please see our Showroom page.
Novax® accepts VISA and Mastercard
ALL NOVAX® GUITARS ARE MADE IN USA